Market Update – August 2022
Pivot Party
The financial system has taken a small but noticeable exhale, most notably in the U.S. with equities and bonds rebounding from their June lows.

Some are calling this a pivot party, with the prospect of softening inflation data and, therefore, interest rate expectations placing a temporary floor under asset prices.
Supporting this rhetoric is the rollover of commodity prices that have added to headline inflation, including Oil, which is down -20% over the past six weeks, now back to levels not seen since Russia invaded Ukraine.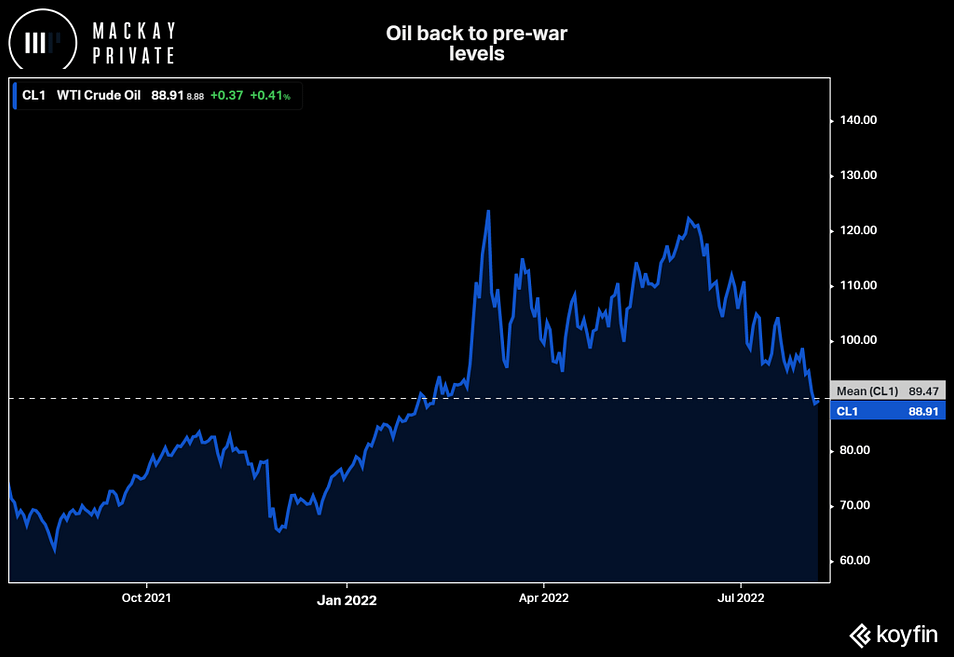 To some degree, a relief rally is not unusual; equities often overshoot to the upside and downside during the cycle.
We believe recent moves reflect a moderation of the overly pessimistic view that hindered markets over the year's first half, rather than the start of a sustained period of robust returns.
With this in mind, we are not actively allocating new capital towards risk assets. If anything, the recent relief rally is a reminder of how important it is to remain invested in line with your long-term strategic asset allocation weights.
What continues to be missing from the picture is the negative impact of tighter financial conditions on company earnings (better or worse than expected). The upcoming ASX reporting period will be closely watched, especially the guidance for future earnings in a more challenging economic environment.
Adding to the complexities are geopolitical risks between China and Taiwan that have greatly intensified over the past week. Given the high economic and social cost of war, we expect China to react with more bark than bite.
This update was provided by Mackay Private Pty Ltd ABN 32 636 659 580, a Corporate Authorised Representative of Mackay Private Partners Pty Ltd AFSL No.534073. This email message is for the exclusive use of the intended recipient(s) and may contain confidential, privileged and non-disclosable information. If you are not the intended recipient, please contact the sender by reply email immediately and destroy any and all copies of the message. Please consider the environment before printing this email. Please click unsubscribe if you do not wish to receive future communications from Mackay Private.
General Advice Warning: The comments in this email do not take account of your objectives, financial situation or needs. Before acting on any general advice, you should consider if it is appropriate for you.